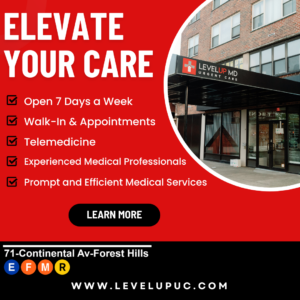 Forest Hills, Queens, NY, LevelUp MD Urgent Care, a leading healthcare provider in Forest Hills, Queens, is thrilled to announce its comprehensive range of services designed to cater to the diverse healthcare needs of the community. With a strong commitment to accessibility, innovation, and community engagement, LevelUp MD is poised to revolutionize urgent care services in the Forest Hills, Queens area.

Open 7 Days a Week: A Commitment to Convenience LevelUp MD recognizes that health concerns don't adhere to a standard schedule. As a testament to its dedication to the community's well-being, LevelUp MD Urgent Care is open 7 days a week, ensuring that individuals have access to quality medical care every day, including weekends and holidays.

Telemedicine: Bridging the Gap to Modern Healthcare Understanding the evolving landscape of healthcare, LevelUp MD offers cutting-edge telemedicine services. This virtual platform allows patients to consult experienced medical professionals remotely, providing swift access to medical advice and treatment, even from the comfort of their own homes.

From Pediatrics to Senior Health: Comprehensive Care for All Ages LevelUp MD's commitment to inclusivity shines through in its approach to patient care. With a focus on providing tailored services for everyone from pediatrics to senior citizens, the center ensures that each member of the community receives the appropriate and specialized attention they deserve.

Vaccines, Lab On-Site, and Occupational Medicine: A Proactive Approach Preventive healthcare is paramount at LevelUp MD. Offering a wide range of vaccines, including crucial flu shots, the center promotes proactive health measures. Additionally, an on-site lab expedites diagnostic processes, facilitating quicker diagnoses and more effective treatment plans. For the local workforce, LevelUp MD is equipped to handle occupational healthcare needs with precision and care.

Sports Physicals for Students: Nurturing Future Athletes With the upcoming school year, LevelUp MD is dedicated to the well-being of young athletes. Their comprehensive sports physical examinations ensure students are in optimal health and prepared for a safe and successful sports season.

Community-Centric Focus: More Than Healthcare LevelUp MD Urgent Care understands that being an integral part of the community involves more than just medical treatment. The center actively engages with local events, organizations, and initiatives, demonstrating a commitment to nurturing a healthier, more vibrant neighborhood.

Strategic Location: Access Made Easy Situated conveniently outside the Forest Hills-71 Ave. train station on the E, F, M, and R subway lines, LevelUp MD Urgent Care's location underlines its dedication to accessibility. This prime placement ensures that patients can easily reach the facility using public transportation, providing a seamless healthcare experience for residents and visitors alike.

LevelUp MD Urgent Care is on a mission to redefine urgent care services by prioritizing accessibility, innovation, and community engagement. With a range of comprehensive services and a heart for the Forest Hills community, LevelUp MD is set to become a beacon of healthcare excellence in the region.