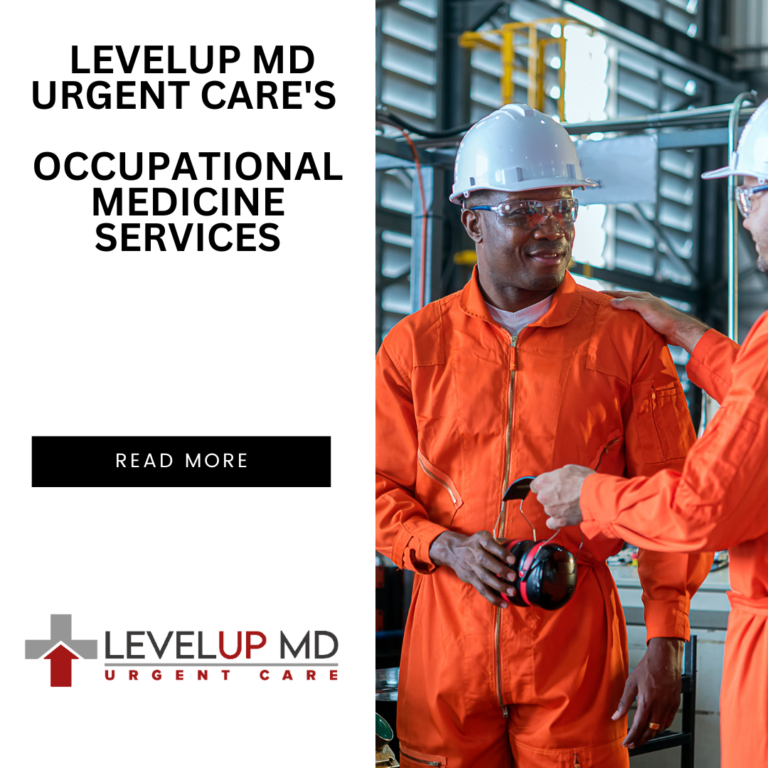 In today's rapidly evolving business landscape, ensuring the health and well-being of your workforce is paramount. At LevelUp MD Urgent Care, we're dedicated to providing top-tier Occupational Medicine Services that empower businesses across New York and New Jersey to prioritize workplace wellness and safety like never before.
Understanding Occupational Medicine:
Occupational medicine is a specialized field that focuses on the health, safety, and well-being of employees in relation to their work environment. From preventing workplace injuries to promoting overall employee health, this discipline plays a pivotal role in maintaining a thriving and productive workforce.
Our Comprehensive Services:
· Pre-Employment Screenings: Securing the right talent for your organization starts with assessing their ability to perform the job safely and effectively. Our pre-employment screenings evaluate candidates' physical fitness and health, ensuring they're a great fit for the role.
· Telemedicine Services: We understand that convenience is key. That's why we offer telemedicine services, allowing your employees to receive expert medical advice and care without the need for in-person visits. Accessible, efficient, and highly effective, telemedicine ensures that your workforce remains healthy and productive, no matter their location.
· Workplace Injury Care: Accidents can happen in any workplace. When they do, our experienced medical professionals are here to provide prompt and effective treatment, helping your employees recover quickly and get back to work.
· Health and Wellness Programs: A healthy workforce is a happy and productive one. Our tailored wellness programs encourage healthy habits and lifestyles, reducing absenteeism and boosting overall morale.
· Drug Testing: Maintaining a safe and drug-free workplace is essential for your employees' well-being and productivity. Our comprehensive testing services ensure compliance with regulations and contribute to a secure work environment.
· Immunizations: Prevention is key to maintaining a healthy workforce. Our immunization services safeguard against illness outbreaks, promoting a healthier workplace for everyone.
· Physical Examinations: Regular check-ups are vital for identifying potential health concerns early on. Our comprehensive physical examinations help ensure that your employees are fit and ready to excel in their roles.
Your Local Partner:
With multiple locations throughout New York and New Jersey, LevelUp MD Urgent Care brings expert Occupational Medicine Services right to your doorstep. Our commitment to convenience and accessibility means that whether your workforce is spread across different regions or concentrated in one area, we're ready to support your needs.
Invest in Your Employees' Well-being:
LevelUp MD Urgent Care's Occupational Medicine Services are your gateway to a healthier, safer, and more productive workforce. By investing in the well-being of your employees, you're not only fostering a positive workplace culture but also ensuring the success and longevity of your business. Contact us today to discover how we can tailor our services to suit your organization's unique needs. Together, let's take workplace health and safety to the next level.